Awamori Shimauta
"Shima Uta" (traditional Okinawan folk music)
The Awamori ""Shima Uta"" lineup consists of two types: ""Shima Uta Black"" (30%), which brings the taste of Awamori and the characteristics of black malted rice clearly, and ""Shima Uta"" (25%), which allows you to enjoy the taste of Awamori in a light and refreshing way. The name of the product is derived from the idea of making Awamori like ""Okinawan island songs,"" which have been sung and loved for generations.
Black is deep and refreshing, "Shima Uta Kuro 30°".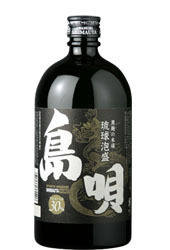 Black is the black color of black malted rice
Awamori, said to be the oldest distilled spirit in Japan, has used black malted rice for over 500 years. Black koji is the most suitable koji for subtropical Okinawa, and is the fruit of the wisdom of our Ryukyuan ancestors. Of course, "Shima Uta" also uses black koji, which is native to Okinawa.
All brewing with black koji
The special feature of all-koji brewing is the "thick moromi" obtained by brewing the entire koji at once. This is also the source of Awamori's vital and delicious flavor, which is the wisdom of sake brewing unique to Okinawa, embraced by the sun and the Kuroshio Sea. The wind from the "shimauta" is the very essence of Okinawan nature.
Black is deep and refreshing
The black malted rice gives the Awamori its original depth and sharpness, yet it is refreshing and gorgeous on the palate. As a food sake, it goes well with tofu and pork dishes.
Recommended drinking methods
Water
On the rocks
Hot water
Even more approachable "Shima Uta White 25%".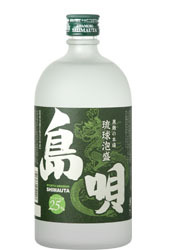 We want to become a familiar
Okinawa Shima Uta" (25%) is a delicious and fun way to enjoy drinking awamori, even for first-time drinkers. Our goal is to create an awamori that allows you to feel the Okinawan breeze with Shima Uta, no matter where you are in Japan.
Light and refreshing
It is 25% with a light aroma and a refreshing taste.
Recommended way to drink
Water
On the rocks
Cocktails